The Evidence was Irrefutable -- Case 3
Summary
With a contract that took eight months, with several changes in the quantity surveyor and with poor record keeping all round, it looked like Mike was going to lose over $5,000 Although he had never used FloorRight™ Commercial before, he quickly entered the job, let FloorRight Commercial calculate all the quantities and both Mike and the client were happy with the results. Mike saved $5,000 with his first use of the product.
Company Background
K. M. Davies Furnishings has a tradition of quality and service in the retail area, but contract/commercial work is relatively new to them. With only a small staff and with major competition from larger firms, they are always on the lookout for ways to improve their productivity and professionalism and to reduce uncertainty and sources of error.
Confusion over quantities
The contract involved work on a new classroom block and the refurbishment of an existing old grammar school. It had been a tedious process and the entire project took over eight months. As is often the case with jobs that drag on for a while, the quantity surveyor changed three times. We know that this always means trouble at the end of the job for there always seems to be confusion due to miscommunication and this case was no exception. So, as expected, on completion of the work we were involved in a dispute with the builder over the work we had completed. It wasn't that there was any concern on the builder's part about the quality of our work. It was a genuine confusion because the records which had been kept and passed on to the new quantity surveyors were less than perfect.
As we had completed the work before we had introduced FloorRight Commercial to our company, we only had our site measurements on note pads and tatty old plans. Our calculations were on spreadsheets that ran to several pages, so finding any errors would have been very time consuming. Furthermore, our notes and data did not look all that impressive.
FloorRight's accuracy resolved the problem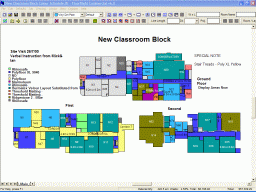 The problem seemed insurmountable but we had to try something. We had not used FloorRight Commercial before but, just to see how easy or difficult it was to use, we found a set of unused plans and took off the dimensions using the digitizer. This would normally have taken several hours but, with FloorRight Commercial, we had it done in a few minutes. We were able to verify these dimensions from our file of site measurements.
Then, trivially, we entered in all the materials we had used on the job and let FloorRight do its calculations. We were surprised to see that it did not agree with our calculations, nor did it agree with the builder's Quantity Surveyor.
After checking and re-checking we finally had to accept that we were wrong, and that the quantity surveyor was also wrong. The evidence, given by FloorRight Commercial, was irrefutable and readily accepted by the client. As a result, we were able to obtain a further payment over and above our previous final bill.
We would normally have done a deal with the client to agree to the account, but the FloorRight presentation and back up evidence beat him to submission. As a matter of interest we were offered $116,859 as a settlement figure against our bill of $120,054, and we settled at $121,902. Thank you FloorRight.