Sheffield Hospital Extension -- Case 2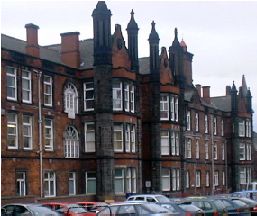 Summary
The information on the floor plans was spread over sixteen different drawings and it could have been a nightmare to sort everything out. As usual, there was a time pressure. Using FloorRight™ Commercial, all the drawings could be condensed into one and the carpet area then extracted. The sophisticated layout features suggested several alternatives including a way to save over 40 square meters.
Company Background
Mike Davies started doing contract work about three years ago. His business is quite small, and although the contract work is quite attractive, he has to spread his time between that and his retail work. This often means that he simply cannot devote the needed time to preparing bids on the contract work. He is always looking for a way to get the estimating of contracts faster and more reliable.
Sixteen drawings for the one job!
The new wing to the Sheffield Hospital was a four-story extension to an existing 19th century hospital. The total floor area was in excess of 3,000 square meters. There was a very complicated arrangement of floor areas and the actual details were spread over sixteen different drawings. It was a nightmare to sort it all out. As we are a small company and do retail work, as well as commercial, I have to wear many hats and have to deal with interruptions when they occur. It would be nice to have a staff who were devoted entirely to the commercial work, for when we have to bid on a contract, there always seems to be pressure to get it all done in a hurry. However, this is a luxury I cannot afford.
Another problem I continually run into is the difficulty of being able to discuss with the client the exact positions of all the joins. This, of course, affects the waste, and since I am usually paid by the area of the floor and not by how much carpet I use, the waste has a critical effect on my costs and hence my profit. With a job as complex as the Sheffield Hospital Extension the risks were enormous, and I would have normally had to spend several days before I would have enough information to discuss and cost out all the details with the client.
Dealing with complexity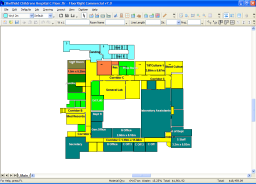 Using the digitizer, FloorRight Commercial was able to deal quickly with all sixteen drawings. It gathered all the pieces together and produced sections of the drawings for both the installers and the verification of site measurements. This allowed the client and ourselves to agree on dimensions and areas very quickly indeed. Further, the organized FloorRight worksheets simplified the planning and fitting process.
The Copy and Paste facility made it very easy to extract the carpet areas and create a new worksheet. This allowed us to try many different layout directions and seam arrangements all with just a few clicks of the mouse button. (This part would have taken days wihout FloorRight!) Occassionally I wanted to move one of the automatically placed seams or put one in a specific place and FloorRight made that a trivial task. Since, for every layout, FloorRight shows the complete seam placement, the stock layout and the percentage waste, I could quickly produce the best option AND discuss all the details with the client's architect before I started the job. FloorRight suggested a layout which was excellent and saved 40 square meters of carpet, and the clarity of the printed output allowed me to make a very professional presentation to the client. FloorRight Commercial has revolutionized my business making my job simpler, faster, more reliable, and much more professional. I have an edge I never had before